The ResMed AirFit N10 for Her is designed specifically for female CPAP users. It is easy to put on and off and is simple to assemble meaning cleaning is not such a chore.
It is lightweight, has nothing in front of the eyes and has magnets for putting the mask on and off.
The N20 for Her is the updated model of the ResMed AirFit N10
Why buy from Sleep Right Australia?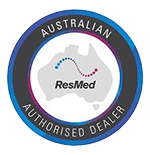 Money Back Guarantee*
ResMed Masks 14 days
ResMed Machine 30 days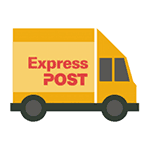 Free Express Post
on ResMed Masks & Machines within Australia

Easy Payment Plans
choose from Certegy ezi-pay, AfterPay or Zip Pay
Free Equipment Review
online personalised review of your current or new equipment
The ResMed N10 For Her is a compact, easy to use and good performing CPAP mask which has been designed specifically for women.
The AirFit N10 for Her has a special under-eye frame that allows a clear line of sight, with a Spring Air™ cushion that fits softly on your face while providing an optimal seal. It's simple to fit , with EasyClick self-aligning headgear magnets.
Key features
Designed for women, the N10 For Her comes with smaller headgear and a smaller cushion. The headgear is stylishly designed with Pink tones.
The cushion, frame and headgear have been designed to work together to provide a comfortable, good performing sleep experience. The exhaust has been designed to reduce the air hitting your partner on the back and from hitting you on the arm while you sleep.
Visual freedom. With nothing in front of your eyes to obstruct your view, the N10 is a more convenient mask option than the previous nasal masks. You can even wear your glasses.
Stable seal. The Spring Air cushion, frame and tubing allow for movement during the night, ensuring your mask is sealed no matter your body position.
Dr Sleep Right says:
The ResMed AirFit N10 For Her revolutionised nasal CPAP masks for women. It has probably been overtaken by the newer release N20 For Her but never the less there is still room in our catalogue for this mask.
We like that there are smaller sizes in the cushion and headgear designed to suit women. It is really easy to reassemble making it simple to clean. The magnets make the mask super easy to put on and take off, yet they still provide a really stable connection point. The exhaust makes this mask quiet and redirects the air so your bed partner is not getting a direct jet of air hitting them.
Overall we like the mask. We think the N20 For Her has been a successful upgrade too.