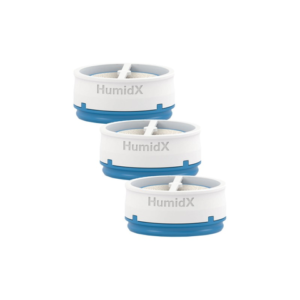 The humidification technology in the ResMed AirMini is quite unique. The humidifier (HumidX) tabs are waterless and work by trapping the heat and moisture from your exhaled breath, while still exhausting the CO2 etc.
The beauty of these, is that they are waterless and require very little thought and cleaning. There are two different "strengths" there is the Standard humidifier tab, HumidX and the HumidX Plus that delivers more moisture and heat.
With the weather changing of late, we have noticed that people are using both tabs. The HumidX seems to be more popular in the dryer, Summer months, while the HumidX standard is delivering a more suitable humidity in the Winter months.
With all CPAP equipment, experimenting is important to find what works best for you. A recent conversation I had with a ResMed AirMini user was that since it got colder the HumidX Plus was delivering too much moisture. We will now try the Standard HumidX and possibly look into a tube cover.