Finally: Discover The New Sleep Apnea Solution Designed Specifically For Women
Contact Us Today, Learn How You Can Get $100 OFF Your New CPAP Machine,
And Say "Goodbye" To Machines For Men.
[twocol_one]
Sleep Right Australia
Now Offering The ResMed
AirSense 10 AutoSet For Her –
Designed Specifically For
Women With OSA.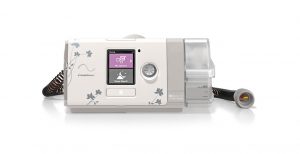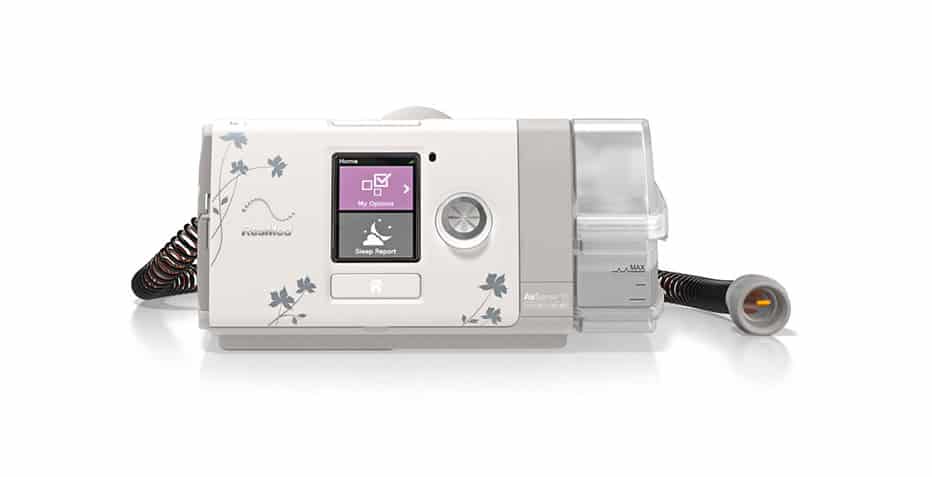 [/twocol_one] [twocol_one_last]
Determine If Your CPAP Machine Is Right For You.
Provide Your Information Above To Schedule A Free Equipment Consultation And Test.
[/twocol_one_last]
Studies Show:
Women With Obstructive Sleep Apnea (OSA) Experience A Unique Set Of Symptoms
Men and women with Obstructive Sleep Apnea (OSA) experience separate sets of symptoms and until now, the majority of CPAP equipment treated men and women exactly the same.
Recent research reveals that women who suffer from Obstructive Sleep Apnea (OSA)…
Take longer to fall asleep…
Have more flow limitations..
Are prone to more frequent sleep arousals…
Have a lower apnea-hypopnea index…
Experience fewer, shorter apneas than men..
And have more apneas during deep REM sleep…
This is shocking news considering that…
40% Of Newly Diagnosed OSA Sufferers Are Women And Many Women Use Treatments Made For Men.
The difference between OSA in men and women is about more than sleep comfort.
If you're a woman who is using a machine designed for men to treat your sleep apnea, you could be at increased risk for:
Mistreatment of sleep apnea or complete failure to manage symptoms at all…
Episodes of breathing that completely stop during sleep… causing you to wake up choking or gasping for air…
And a host of other serious issues that don't just make it impossible for you to get a good night's sleep, but can also affect your overall mood, health, safety, and quality of life.
Fortunately, you no longer have to worry about not receiving the right treatment for your overwhelming sleep apnea symptoms because…
ResMed Has Released The First-Ever CPAP Machine Designed Specifically For Women
You don't breathe like a man, sleep like a man, or look like a man…
Isn't it time you had access to CPAP devices specifically engineered to fit women's unique characteristics?
Just imagine…
Sleeping peacefully through the whole night… with the FIRST dedicated algorithm that has been designed to respond to subtle changes in airflow and pressure that are characteristic of women's OSA… helping you stay comfortable and reduce waking…
Having total peace of mind in knowing that your specific sleep apnea has been properly diagnosed… and… that you're getting the optimum treatment for your specific symptoms…
Never having to deal with the discomfort of ill-fitting masks again thanks to ResMed's lightweight and comfortable masks that are made to suit women's needs… You'll love the smaller headgear, shorter straps, small-size cushion, and pink and grey colours for optimum fit and style…
Being able to maintain an accurate, up-to-date report of your OSA that your doctor or specialist can easily access securely online at any time to improve your sleep apnea treatment and further minimize sleep disturbances…
Sounds amazing, right? Well, here's more great news…
This isn't a dream. All this and more is 100% possible thanks to the all-new, first-ever CPAP machine that's tailor made to provide you with the therapeutic responses you need to sleep and live more comfortably… and it's available right now at Sleep Right Australia!
Introducing:
The ResMed AirSense 10 AutoSet For Her
[twocol_one]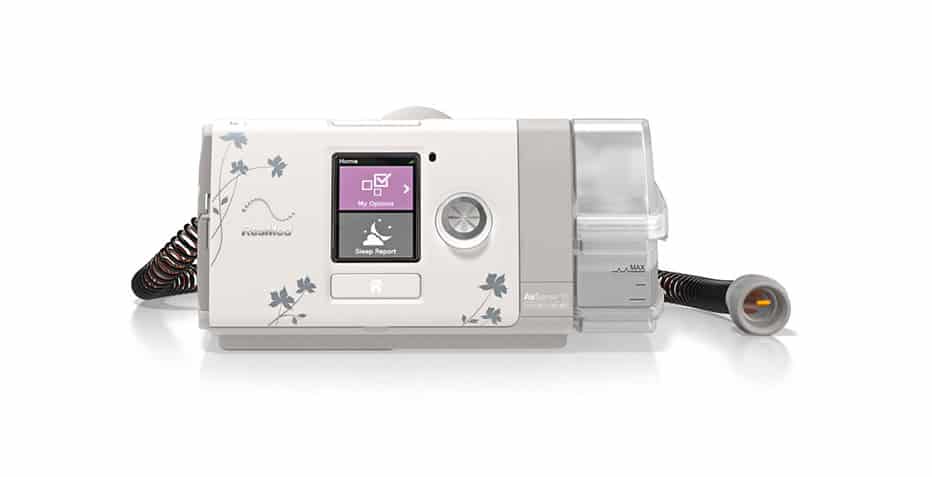 [/twocol_one] [twocol_one_last]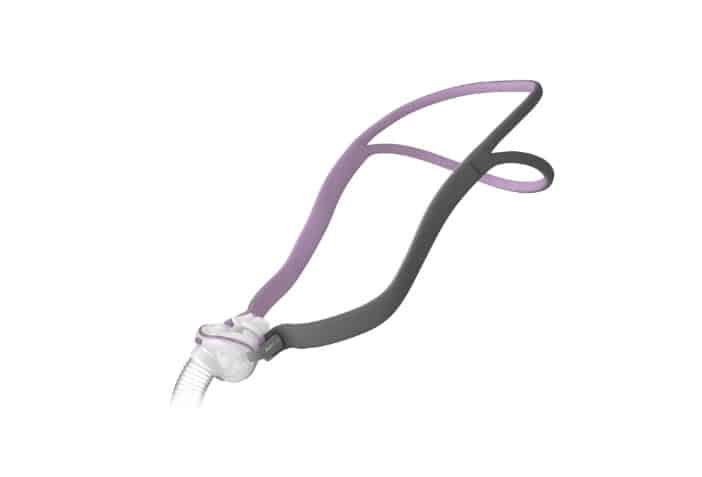 [/twocol_one_last]
Here's What You Get With The World's First And Only CPAP Machine Tailor-Made For Women:
Laser-Targeted Treatment of your specific and unique sleep apnea symptoms, including female patients who suffer from Central Sleep Apnoea (CSA). ResMed's wide range of solutions offer women personalised therapies to improve breathing, sleep, and your overall quality of life.
First Female-Specific Algorithm designed to respond to the unique sleep apnoea symptoms women like you suffer from… including increased upper airway resistance and shallower breaths… so you can rest easy and wake up feeling refreshed.
Remote Monitoring that lets your general practitioner or specialist have instant access to your sleep apnoea history and make necessary adjustments to your machine for optimal treatment and sleep comfort… without you having to leave your home.(Research also shows that 38% of patients with remotely monitored machinesimproved their compliance… further enhancing the effectiveness of their sleep apnea therapies and strengthening their relationship with health care providers.)
Fewer Sleep Disturbances For You And Your Partner thanks to the increased sensitivity to airflow limitationof this machine that makes it easy to deliver the therapeutic responses you need.
Comfortable Gear In The Right Size… This CPAP machine doesn't just use a special algorithm to help you sleep soundly… it also comes with a smaller sized mask, cushion, and straps… and… smaller headgear that you can wear over or under your hair for a more secure fit and all night comfort.
Ongoing CPAP Device ManagementAnd Support from Sleep Right Australia… Let our professional and friendly staff handle your needs, answer your questions, and assist you with any trouble you might be having with your new machine. Our machine expert Andrew has over 5 years of experience in troubleshooting and servicing CPAP devices and can quickly resolve your issue thanks to the exclusive remote monitoring feature of the ResMed AirSense 10 AutoSetFor Her.
Contact Us Today For A FREE Consultation And Discover If Your CPAP Machine Is Right For You!
Is your CPAP machine outdated, uncomfortable, or designed without your specific symptoms in mind?
Now is the time to find out…
When you contact Sleep Right Australia today for a free equipment consultation (just complete the form above or at the bottom of this page), we'll help you determine if your systems are unique and if you're using the proper CPAP equipment.
During your FREE consultation, we'll explain the advantages of a machine designed specifically for women, and recent advances in technology that allow you to experience greater control over OSA with more comfort than ever before.
We're excited to offer this FREE consultation because…
When You Stop In For Your No-Obligation Consultation…
You'llAlso Get $100 OFF A New And Improved Machine Just For Mentioning This Ad!
Here's what you need to do now to take advantage of this generous offer:
Step 1: Sign up or stop by our clinic today for a free consultation to learn more about the first ever CPAP device designed specifically with women's unique needs in mind.
Step 2: During the time of your consultation, if you decide your current CPAP machine isn't meeting your unique needs and providing you with the comfort you deserve, simply mention this ad and we'll automatically give you $200 in trade-in credit towards the purchase of your new ResMed AirSense 10 AutoSet For Her!
Plus, we also offer convenient payment plans to make sure this custom-engineered, state-of-the-art CPAP machine for women is absolutely within your reach!
Remember: There's absolutely no-cost, no-obligation, and no risk. Simply stop by our friendly office, swap out your old, made-for-a-man machine, and rest easy from now on!
The time to act is now. Go ahead and schedule your consultation today and discover how this device could help you sleep better, have more energy during the day, and improve your overall quality of life!
Take The First Step Towards A CPAP Machine That's Made Just For You.
Sign Up For A FREE Consultation Now!
Provide Your Information Above To Schedule A Free Equipment
Consultation And Claim Your $100 Trade-In Credit Today.