ResMed AirSense 10 Elite – Fixed Pressure CPAP device
The Resmed AirSense 10 Elite is a premium fixed-pressure device that features a built in humidifier.
Includes: Powercord, Heated Tube & travel bag
Complete your AirSense 10 purchase with a compatible Mask and additional power options
Why buy from Sleep Right Australia?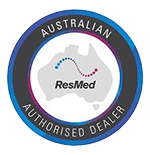 Money Back Guarantee*
ResMed Masks 14 days
ResMed Machine 30 days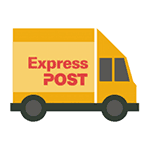 Free Express Post
on ResMed Masks & Machines within Australia

Easy Payment Plans
choose from Certegy ezi-pay, AfterPay or Zip Pay
Free Equipment Review
online personalised review of your current or new equipment
Resmed AirSense 10 Elite Power Consumption
Battery Guide
The ResMed AirSense 10 Elite is a premium fixed-pressure device.
The ResMed AirSense 10 devices also come in AutoSet and AutoSet For Her
There is alot to like about the ResMed AirSense 10 devices. They feature:
Built in humidification that's very easy to clean with several adjustable settings.
Much less noise than previous model CPAP devices.
With it's compact design, ease of use and the remote monitoring technology the ResMed AirSense devices are now a very popular CPAP machine.
The devices contain a built in humidifier and a special heated tube. These features will communicate with the relative environment and change their settings accordingly. This in turn will deliver you optimum comfort settings.
The ResMed AirSense 10 Elite has technology inside it which will detect different types of sleep apnoea and react accordingly. Cheyne-Stokes respiration (CSR) and Central sleep apnea (CSA) detection provide valuable insights when adjusting pressures.
AutoRampTM
AutoRamp™ will detect when you fall asleep then gradually increase the pressure to your prescribed pressure. This allows you to ease up into your therapeutic pressure.
Dr SleepRight Says:
Th ResMed AirSense 10 Elite is an extremely reliable fixed pressure CPAP device.  We love how easy it is to clean and maintain. The patients we have upgraded have noticed improvements with noise and find it much easier to pack when travelling. 
We also like that these devices can be powered by battery. This very reliable, easy to use machine is great for our patients and great for us. We love being able to rely on the AirSnese 10 devices to provide sufficient therapy for our patients.
Additional information
Other Features

Using AirView™, ResMed's cloud-based patient management system, you can access nightly therapy data, troubleshoot remotely (using the remote assist feature) and change device settings remotely.

The user-friendly controls, intuitive interface and color LCD screen make it simple to navigate menus and customize comfort settings.

AutoRamp™ with sleep onset detection works by delivering a low pressure to help patients fall asleep with ease. Once it detects they're asleep, it comfortably ramps up the pressure to ensure the prescribed level is delivered the moment they need it.

The quiet Easy-Breathe motor makes for a peaceful environment for the patient and their bed partner.
Built-in ambient light sensor adjusts the brightness of the screen based on the light in the room and turns off automatically.

Pulse oximetry monitoring is available.
Integrated humidification simplifies setting up the device and makes therapy easier for your patients.