ResMed AirFit P10 For Her nasal pillow mask
Looking to use your AirFit P10 with AirMini, click here
Why buy from Sleep Right Australia?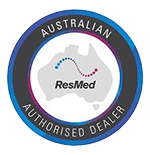 Money Back Guarantee*
ResMed Masks 14 days
ResMed Machine 30 days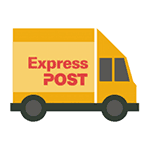 Free Express Post
on ResMed Masks & Machines within Australia

Easy Payment Plans
choose from Certegy ezi-pay, AfterPay or Zip Pay
Free Equipment Review
online personalised review of your current or new equipment
ResMed AirFit P10 For Her nasal pillow mask
For you. Quiet. Small. Stylish. Comfortable. Effective.
The AirFit™ P10 for Her nasal pillows mask is our quietest mask. It is half as quiet as previous nasal pillow masks and also half as light. This specific, female designed edition gives you remarkable freedom and comfort in a female face shape in mind. It has won awards for its design!
Recent international studies show that 40 minutes of extra use per night happened when the P10 was warn ahead of other nasal pillow masks. 2 On top of this, it is super easy to use, feather weight and whisper silent. The result? The most comfortable CPAP pillow mask available.
ResMed AirFit P10 Nasal Pillow mask pillow mask has three significant differences:
Light tubing and headgear that is designed specifically for women. Stylish pink headgear also.
Quietest mask available
Designed specifically for women
Sizes: Extra Small, Small, Medium.
The ResMed AirFit P10 For Her comes with:
1 * Pink headgear strap
1 *  Tube and frame
1 of each size pillow (XS, S and M)
2 * clips for tightening and adjusting of the headgear strap
Made to fit you
The P10 offers a stable mask that is really easy to use and ultra comfortable. The light strap makes it feel as though you are not wearing a mask at all.
Whisper quiet
QuietAir™ mesh vents will gently direct away the exhaled air -  your partner will not notice it!
Featherweight
Comfortable. Quiet. Unobtrusive. This is the stress free, minimalist mask you have been waiting for.
Dr SleepRight says:
The ResMed AirFit P10 For Her has been a real hit the our female patients. Women and Men are different. They are different sizes and breathe differently, so it is nice that ResMed have updated their designs to accommodate for this. The P10 For Her is small, quiet and really easy to use. If you have been considering using a nasal pillow mask, now is the time to get onto it. The ResMed AirFit P10 For Her is a popular, fantastic mask. Give it a try!
Additional information
Key features

Quieter –
The AirFit P10 for Her is approximately 50% quieter than our leading nasal pillows mask, with QuietAir™ woven-mesh venting that gently directs air away from you and your bed partner.

Light and comfortable –
Designed to be comfortable and barely noticeable while you're wearing it, the AirFit P10 for Her is 50% lighter than our leading nasal pillows mask.

Snug and stable –
Dual-wall technology with trampoline action seals on contact, while the flexible yet highly durable flexi-tube offers full freedom of movement without compromising seal.

Easy to wear –
QuickFit™ elastic headgear is auto-adjusting and simple to fit. Key-clip nasal pillows feature color-coded sizing and left/right-orientation for fast and easy fitting.

Easy assemble –
Simple one-click action makes assembling and cleaning the AirFit P10 for her quick and easy.

Product Specifications

Short Mask Tube Length: 15 inches
Stretchable Headgear Length: 19.25 inches
Headgear Width: .75 inch
Latex Free

Pillow Size

XS, S, M