ResMed AirFit P10 Nasal Pillow CPAP Mask
Looking to use your AirFit P10 with AirMini, click here
Why buy from Sleep Right Australia?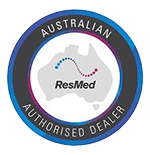 Money Back Guarantee*
ResMed Masks 14 days
ResMed Machine 30 days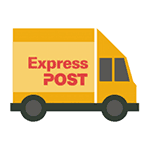 Free Express Post
on ResMed Masks & Machines within Australia

Easy Payment Plans
choose from Certegy ezi-pay, AfterPay or Zip Pay
Free Equipment Review
online personalised review of your current or new equipment
ResMed AirFit P10 nasal pillow mask
Our most popular, quiet, easy to use CPAP mask.
The P10 mask will come with S,M and L pillow cushions in the "For Him" version and XS,S and M in the "For Her" version. The P10 will also come with headgear, tube/frame and clips which can help tighten the headgear.
If you already own the ResMed AirFit P10 and want to give it a little freshen up, this accessory package is perfect.
P10 (Pillows) – Nasal pillow mask with three significant differences:
Lighter headgear and tubing (including a smaller "For Her" strap
Softer cushion
Quieter
Changed air distribution meaning less disturbance from the front of the mask
Sizes: Extra Small, Small, Medium, Large.
The ResMed AirFit™ P10 nasal pillows mask is the quietest and lightest mask available. It has the latest mask technology available for sleep apnea therapy. Recent studies suggest the P10 is 50% quieter and lighter than the previous nasal pillow mask. A study also showed that patients got, on average, an extra 40 minutes of sleep per night of use.2 The lightweight headgear allows ease of use and freedom of movement. The P10 is extremely simple to put on yet remains very stable throughout the night. The P10 is comfortable, light, quiet and very effective.
Almost Silent
The QuietAir™ woven ventalation system directs away the exhaled air - it's hard for you and your bed partner to notice! The testing showed that it is up to 50% quieter than previous nasal pillow masks.
Featherweight
The design is for comfortable. Many patients report not noticing it is on. The P10 is 50% lighter than any other mask. The flexi-tube super light but durable, which allows freedom of movement without compromising therapy efficacy.
Dr SleepRight Says:
The ResMed AirFit P10 is by far our most popular mask. Patient's love how comfortable the lightweight frame and headgear work with the soft cushion. The exhaust at the front of the mask is fantastic technology which means the air is not expelled as a direct jet. This means that bed partners are getting a quieter and more comfortable sleep without air hitting them.
We have had several patients upgrade to this mask and they love it. The new headgear clips means that the ResMed AirFit P10 is now lasting much longer as we can tighten the strap once it loosens. It is super easy to fit and we use it with confidence on a very regular basis. If you have been considering using a nasal pillow mask, we strongly recommend the ResMed AirFit P10 nasal pillow mask.
Additional information
Other Features

Easy to use.

The AirFit P10's minimalist three-piece design makes assembly, fitting and cleaning a breeze.

Easy to assemble.

Key-clip nasal pillows feature color-coded sizing and left/right-orientation for fast and easy fitting. The mask easily slips on and off without any extra steps.

Comfortable.

The mask seals on contact, with trampoline action that lets you move around comfortably without compromising the mask's seal.