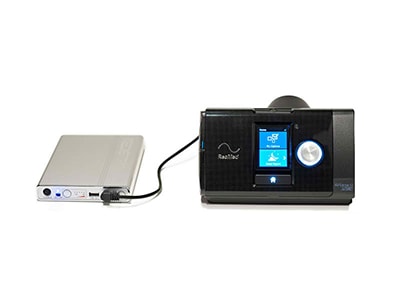 What if there is a power failure and your CPAP machine stops working?…. or there is no access to power where you currently are?
Then you will certainly need a backup plan, and Medistrom can help with that, with the Pilot-24. I'm now going to take you through the Medistrom Pilot-24 Backup Power Supply.
The Pilot-24 is compatible with the ResMed CPAP machines. It's a small, lightweight unit that comes with two connecting cables that are clearly labelled for each ResMed device. The Pilot 24 is compatible with the ResMed AirSense 10, S9 and ResMed AirMini CPAP devices.
The Pilot-24 is a backup power supply that is connected in between your power cord and your CPAP device. The yellow tip end goes into the DC output on the Pilot-24, and the other end to the CPAP machine. Once it's all connected, we can now switch on the Pilot-24 to send power to the CPAP machine. A blue light will appear, indicating the Pilot-24 is on. Now that the CPAP is receiving power, we can switch it on, also.
The best part about this setup is you can take it anywhere the world takes you and use it as a travel battery. On top of this, the Pilot-24 also has a USB output that allows you to charge your cellphones so you can always stay in touch, and an LED flashlight to assist you in getting around in the dark during power outages or perhaps camping in the woods.
Now you can sleep with the peace of mind and not have to worry about waking up in the middle of the night and find that your CPAP is not running.
To find out more about the Medistrom Pilot 24 Back up CPAP battery, go to https://sleepright.com.au/accessories/batteries-and-converters/medistrom-pilot-24-plus-cpap-backup-power-supply/