Why buy from Sleep Right Australia?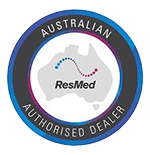 Money Back Guarantee*
ResMed Masks 14 days
ResMed Machine 30 days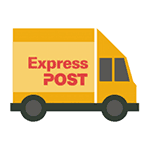 Free Express Post
on ResMed Masks & Machines within Australia

Easy Payment Plans
choose from Certegy ezi-pay, AfterPay or Zip Pay
Free Equipment Review
online personalised review of your current or new equipment
The first item you will receive in this package is a cushion with sizing options of large, medium and small. The full-face cushion for the ResMed AirFit F20 mask had been constructed with comfort in mind. This can be seen by its improved seal and soft silicone texture. In creating this product ResMed have used InfinitySeal technology which enables the cushion to seamlessly adapt to your face. The implementation of this innovative technology within the cushion therefore means that the ResMed AirFit F20 is compatible with various facial shapes and sizes. This ensures you have both comfort and security through the night.
As well as a cushion, this package also contains a pair of replacement clips for your headgear. These clips are magnetic and latch to the lower sides of your headgear and then attach to the side of the AirFit F20 frame. This feature makes ease of fitting and using your mask.
The plush headgear for the AirFit F20 is also a feature of this package. The mask is able to stay in alignment overnight as the F20 frame and headgear fasten together securely at the sides. The soft fabric in which the headgear is made of creates a soft and comfortable feel. Not only does the soft fabric provide comfort but it also aids in the prevention of marks and pressure where used. The headgear for this CPAP full face mask has four separate locations from which you can make adjustments to the sizing and overall fit of your ResMed AirFit F20 mask. The headgear for the AirFit F20 is available in both pink 'for her' and blue 'for him'.
This package deal for the ResMed AirFit F20 equips you with the essential products needed to ensure your mask lasts. Regularly renewing such items can extend the lifespan of your mask and allow it to work at its optimal capability. This in turn will allow you to generate effective and comfortable CPAP therapy.
Please note; This is an accessory pack and does not contain a whole mask.
Additional information
| | |
| --- | --- |
| Pillow Sizes | XS, S, M, L |
| Headgear for | Him Blue, Her Pink |