The ResMed Mirage™ FX nasal mask offers reliability, simplicity and comfort. With no clumsy clips it is easy to use. The mask is also very easy to clean reassemble. A very popular mask and for good reason.
Why buy from Sleep Right Australia?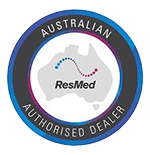 Money Back Guarantee*
ResMed Masks 14 days
ResMed Machine 30 days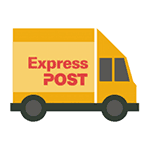 Free Express Post
on ResMed Masks & Machines within Australia

Easy Payment Plans
choose from Certegy ezi-pay, AfterPay or Zip Pay
Free Equipment Review
online personalised review of your current or new equipment
The ResMed Mirage™ FX nasal mask is the perfect balance of simplicity, lightweight comfort, premium performance. The 4-part design has simplicity and convenience in mind. It is very easy to use, with no clumsy clips and super easy to clean and reassemble.
It's also engineered to deliver maximum comfort while you sleep — the mask has a two wall, Spring Air™ cushion which sits comfortably on your face. The flexible forehead pad also reduces the amount of contact the mask has with your skin. The mask is very easy to fit and comes in Standard, Wide, For her and Small options.
Streamlined and compact, the Mirage FX is a comfortable, lightweight over the nose option.
With only four parts, including headgear, you'll also save time on cleaning and maintenance.
The Mirage FX is compatible with all different machines. When first using the Mirage FX, ensure that the connections from previous masks have been removed from the tube.
Dr Sleep Right – A very comfortable mask based on patient feedback. A lot lighter and quieter an very easy to use with no clumsy clips. We have been using this mask as our front line nasal mask for a few years now and love its reliability. New one's have been released since and only the N20 is getting similar reviews.
Despite the release of new masks, we will beholding the Mirage FX in stock for as long as they are produced. In case you cannot tell, we love the Mirage FX.
Key Features
Freedom to move. The  elbow releases quickly from your device meaning you can get up with ease during the night should the need arise.
Freedom to see. The thin frame of the Mirage FX allows for minimal obstruction to your vision.
Flexible. The SoftEdge™ headgear is comfortable, breathable and flexible. Combined with the soft cushion, this makes the Mirage FX a very reliable, mask without compromising on comfort.
Additional information
Product Features

Noticeably light weight and easy to disassemble for cleaning, the Mirage FX was designed with the user in mind. With fewer contact points, a softer headgear, and a balanced pressure design this mask takes a step forward in comfort.

Only 4 parts. The Mirage FX minimalistic design only has four parts to make cleaning and maintenance easy: the headgear, the frame, the cushion, and the quick-squeeze elbow.

Butterfly Wing Forehead Support. The forehead support is designed to easily flex to the needed position for a better fit. This design also only allows the headgear and not the plastic to come in contact with the skin.

Squeeze-Tab Elbow. This design is long in coming for CPAP masks. The squeeze-tab elbow makes connecting and disconnecting the hose to the mask a breeze. Just squeeze the sides of the elbow to release the hose. No more worrying about finding the right clips in the middle of the night.

Dual-wall, Spring Air™ Cushion. This cushion is designed to provide even air pressure distribution through all sides in order to reduce pressure points. The cushion also provides extra softness for the bridge of the nose.

Diffused Vent Design. The air vents are designed for quiet and gentle air diffusion to reduce noise and discomfort for a bed partner.

SoftEdge™ Headgear. The headgear is soft to the touch and is designed to help provide a fit through the night.

Sizes