ResMed AirSense 10 AutoSet for Her
Includes: Powercord, Heated Tube & Travel Bag.
Looking for the AirSense 10 For Him version?
Complete your AirSense 10 purchase with a compatible Mask and additional power options:
Why buy from Sleep Right Australia?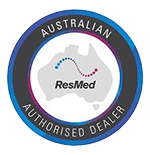 Money Back Guarantee*
ResMed Masks 14 days
ResMed Machine 30 days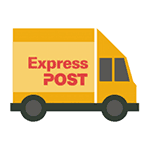 Free Express Post
on ResMed Masks & Machines within Australia

Easy Payment Plans
choose from Certegy ezi-pay, AfterPay or Zip Pay
Free Equipment Review
online personalised review of your current or new equipment
The ResMed AirSense 10 Autoet For her is specially designed algorithm designed for Women's breathing. This algorithm is also designed to administer the lowest possible pressure.
The ResMed AirSense 10 devices also come in AutoSet and Elite fixed pressure version.
Three favourite features of the ResMed AirSense 10 devices are the:
Remote monitoring
Built in humidification  easy to clean with several different settings we can apply within that.
Quieter than previous model CPAP devices.
With it's ease of use, compact design, and the remote monitoring the ResMed AirSense devices has become a very popular machine among CPAP users.
The auto set for her is designed specifically for women. Yes, it has a different cosmetic design, but the real features of this device are inside the machine. As a general rule women will have smaller lungs and a smaller airway. This machine is designed to specifically compensate for the differences between how women and men breath. The algorithm inside this machine is designed to keep this mind.
The device is whisper quiet, has a built in humidifier.
The AirSense 10 AutoSet for Her is the premium auto-adjusting pressure therapy device on the market and the only device that is tailored specifically for women's breathing. Your pressure will change base don each breath. The AirSense 10 AutoSet for her is also set to deliver therapy at the most comfortable temperature and humidity levels when used with ResMed's new The HumidAir™ heated humidifier and ClimateLineAir™ heated tube will adjust based on relative humidity delivering the ultimate moisture and temperature.
The AutoSet or Her is revolutionary in that it is designed specifically for women's breathing. It is 2/3 the size of the S9, has a built-in humidifier and has remote monitoring capabilities. The improved algorithm makes for an overall better CPAP experience.
A comfortable start
AutoRamp™ will detect when you are asleep and keep the pressure low until then. it will then gradually increase according to your therapy needs.
Built-in ambient light sensor
The light sensor means you will not have bright lights shining int he middle of the night should you need to get up. No more disruptions for your bed partner.
Dr SleepRight says:
The ResMed AirSense 10 AutoSet For Her is the first CPAP device deisgned specifically for female breathing. Men and Women are different and ResMed are the first to design a device that tailors to this need. The most obvious difference is the white cover with flowers.... This is sort of impressive, but the real work has been done on the algorithm inside the device. The algorithm is what dictate the pressure required through the night and this has been designed to cater for the female anatomy which is different from men. We were skeptical at first but the proof has been in the results, we have hundreds of women on this device and they love it!
Additional information
Other Details

The Resmed S10 is feature packed giving you a great nights sleep.

Easy-Breathe motor is whisper-quiet, offering you and your bed partner a more peaceful night's sleep.
Simple and intuitive user interface provides feedback on your therapy every morning and it is easy for you to change comfort settings.
The user-friendly controls, intuitive interface and color LCD screen make it simple to navigate menus and customize comfort settings.
SmartStart™ function begins your therapy as soon as you breathe into your mask. When you remove your mask, it stops after a few seconds.
Consistent humidification throughout the night with the integrated HumidAir™ humidifier and optional ClimateLine™Air heated tube with Climate Control technology.
SD Card for Efficacy downloads ensuring effective treatment.
Heated tubing with the Humidifier eliminating condensation.
EPR technology making it easier to exhale.