CPAP equipment, is medical equipment so it is important that you are aware of the kind of condition your gear is in. It is essential that your equipment is in working order to ensure that you are getting effective and reliable CPAP therapy.
By only replacing the parts of your CPAP mask that are worn or broken, you can freshen up your mask and keep it looking new. Replacing mask parts can also be a financially savvy way of ensuring you get value for money in the long term by lengthening the life-span of your CPAP mask, it is also often a cheaper alternative than replacing the whole mask.
Mask condition checklist:
Most CPAP masks, including, ResMed, Fisher & Paykel and Philips Respironics are made up of four basic components, the cushion, the elbow, the frame and the headgear. Grab your CPAP mask and have a look at the condition using the following checklist to assess its current state.

Study your cushion, is it ripped or stretched? Is it dirty or deteriorating in colour or texture?
The cushion of your mask has direct contact with your face and therefore it is important that it is in a clean and comfortable state. It is also important to note that cushions should be replaced every 12 months or at signs of wear and tear.
Has your headgear still got elasticity? Or is it stretched and worn out? When you put it on is your mask being held firmly and in place like it used to?
Worn out headgear can have a dramatic effect on how you receive your therapy, it can even be the source of mask leak.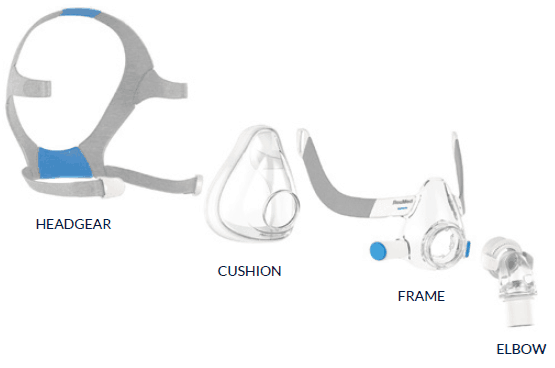 How does your frame look? Are the sides broken or bent at all? Have a look and assess it.
Have a look at your elbow. Are the exhaust vents clear from any dirt or other blockage sources? Is the plastic broken or chipped at all? The elbow is what connects your tubing to your mask and it exhausts the carbon dioxide from your breath, it is therefore important that the vents remain clear and in good working order.
So do I need a new mask or can I just replace parts of my mask?
At the end of the day, it will come down to what you wish to do and the state of your current mask. If quite a few things are worn out on your CPAP mask then it may be time to upgrade and purchase a new one. If it is only your cushion or headgear for example that is worn out, replacing this single part will generally be more affordable. If you have any concerns about your masks condition email us a photo of your mask at info@sleepright.com.au or give us a call on 1800 799 950 and we will be happy to advise you further.