What is the best travel CPAP machine?
The ResMed AirMini is the CPAP travel machine of choice from Sleep Right Australia.
Will the AirMini treat my Sleep Apnea?
The first priority with any CPAP device is that it will actually treat sleep apnea. The beauty of the AirMini is that it is produced by ResMed who have a proven track record with their technology which automatically adjusts the pressure delivered from the device.
Is it small?
Yes. The AirMini is small standing at 133 mm * 84 mm * 52 mm and totalling a weight of 300 grams.
It is about 1/7th the size of the ResMed AirSense 10 device as a reference.
Does it use much power?
Because the AirMini doesn't have a humidifier (it uses waterless humidification tabs) to heat up, the power consumption is much less than the bigger devices which have humidifiers.
See below for the power specs.
AC input range: 100–240V, 50–60Hz 115V, 400Hz (nominal for aircraft use)
DC output: 24V, 0.83A
Typical power consumption: 6.3W
Peak power consumption: 27W
AirMini Specs –  https://sleepright.com.au/wp-content/uploads/2017/05/10110032-AirMini-Device-Fact-Sheet-ANZ-LoRes.pdf
What are the power options with the AirMini?
The AirMini can be powered using a 12V Converter connection.
You can also power AirMini using a portable battery which will provide two nights of power from a single charge.
How does the AirMini Humidification work?
The AirMini humidification uses waterless tabs. These tabs will get rid of the waste from your exhaled breath but hold onto the moisture and heat. These humidification tabs require replacement after 30 days of opening the packet.
Can the AirMini be used with any type of mask?
No, the AirMini can only be used with;
ResMed AirFit P10

ResMed AirFit N20 and N20 Classic

ResMed AirFit & AirTouch F20

ResMed AirFit F30
Will the AirMini move around much during the night?
If you use the AirMini and just have it sitting on your bedside table, it will likely move as it is so small and lightweight. The AirMini will come with a bed mount system which will help hold it in place.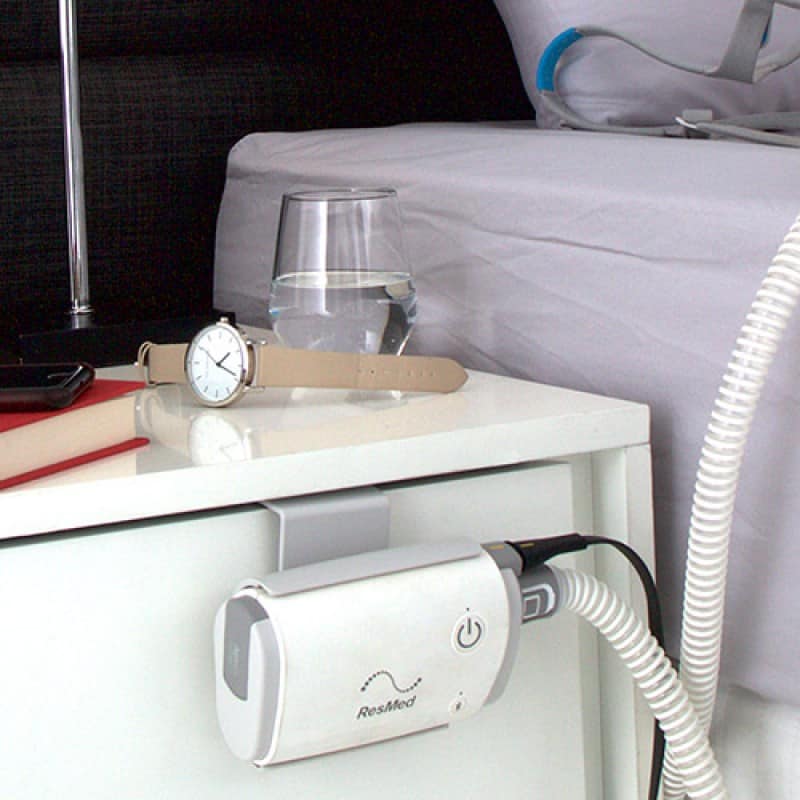 How will I transport the AirMini?
AirMini has a travel bag and hard case available as extras. There is a drawstring bag that it comes with.
If I buy the AirMini online, how will I get it set up for my settings?
If you buy an AirMini from us online, we will contact you to ensure we have set the machine appropriate to what you need. We also monitor your AirMini remotely to ensure it is working effectively for you.
Can I buy AirMini using a payment plan?
Yes, you can purchase AirMini online using HUMM (formerly known as Certegy). Simply add the AirMini to the shopping cart, select HUMM as the payment option and follow the prompts.
What if I don't like it?
The ResMed AirMini comes with a 30 day money back guarantee.
Can I take AirMini onto a plane?
Yes you can. For different aircraft carrier guidelines, Click here.