June already? It has been a very busy period for us here with lots of exciting changes and new products emerging.
In this newsletter we will introduce you to the new Medistrom Pilot 24 battery and the ResMed AirTouch F20 mask.
We will also be covering such topics as how to deal with your CPAP in the cooler months as well as letting you in on how to take advantage of ResMed's current promotion.
First off however, lets introduce you to the Sleep Right team.
STAFF
For those of you who aren't already aware of our history, Sleep Right Australia was founded in Mansfield back in 2010 by Biomedical Scientist Andrew Nunn.
As our presence became well known in Mansfield and the surrounding suburbs, we expanded through launching our shopfront in Wangaratta, Victoria. Alongside this, we also developed our website sleepright.com.au to accompany and aid our footing in the CPAP industry all the while making Sleep Right Australia convenient and accessible to all of our patients.
Overall, during the course of the last eight years, we have moved from a small one-man operation into a company that is now servicing over 5000 patients Australia wide.
This has resulted in an expansion of the team from one, to five.
Andrew N
Andrew, the founder and director of Sleep Right Australia is now spending less time seeing patients and more time behind the scenes developing staff skills and creating the foundations to better improve our service to you. While he is missing the buzz of seeing the patients, he has full faith in the Sleep Right team to provide excellent service and commitment to you.
Wendy
Wendy began her time with Sleep Right Australia in 2015 bringing with her an extensive background in nursing and Specialist Medical Clinic management. Wendy currently manages the Wangaratta Clinic with her responsibilities encompassing much of the day-to-day proceedings. She brings a high level of professionalism to the office with her wealth of knowledge and ability to make things happen. Brings quite a bit of humour too.
Bek
Bek we have recruited and trained on the job since early 2017. She completed Certificate III in Business Administration and is continually booking appointments and keeping everyone in the office organised. Bek is the lovely person you get to speak to on the phone. Voice of an angel.
Andrew B
Andrew B or 'New Andrew', as we often refer to him, recently began work with us here at Sleep Right. As a Health Scientist, Andrew has slotted in to seeing patients with ease and has taken on the responsibilities of Sleep Studies and general appointments all in his stride. Admittedly he is a football umpire, but rest assured that this is his only weakness.
Denise
Based in Melbourne, our problem-solving superstar Denise has many years' experience with Air Liquide Healthcare as a CPAP consultant and logistics operator. Denise's ability to solve problems over the phone or via email is uncanny.
Medistrom Pilot 24 Battery
The Pilot 24 battery has been a terrific addition to our products.
The Medistrom Pilot 24 battery is multifunctional in that it acts as both a stand alone battery and also as a back up battery.
Utilising the battery as a stand alone is a great option for when you are camping, flying or just travelling in general. It is also a practical idea to use the battery as a back up during the night, that way if a power outage were to occur, you're covered.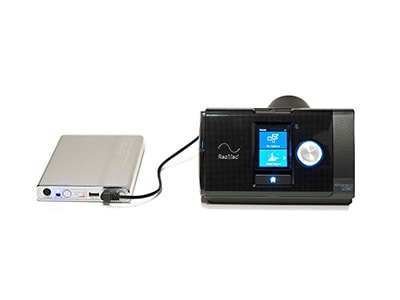 How long will the battery last?

Without using the humidification on your CPAP machine, you can expect to get around 2 nights of usage out of the battery. With a heated humidifier, you are more likely get between 6-8 hours of use.
How long does it take to charge?
The battery will take 4 hours to charge. You can charge the battery using mains power or a 12V charger.
Compatible Machines:
ResMed AirMini
ResMed AirSense 10
ResMed S9
Other features:
Built in light.
USB Port for charging other electrical goods.
ResMed AirTouch F20
The AirTouch F20 sports all the same innovative features as it's predecessor (the AirFit F20) such as magnetic clips, a soft fabric frame and the newly implemented QuietAir Elbow. The difference however, is in the cushion. The AirTouch F20 has an UltraSoft memory foam cushion which sits softly upon the face reducing red marks and skin irritation. It can aid in reducing leak especially on those with beards as it conforms to the face making it suitable for a variety of facial structures.
As each memory foam cushion is disposable (30 day usage time as recommended by ResMed), the AirTouch F20 offers quick and simple maintenance. No washing of the cushion required, a simple wipe down will do the trick in keeping your mask looking it's best.
All in all, the AirTouch F20 is a fantastic, easy to maintain mask. It is an ongoing cost but the pay off sees optimal comfort during your CPAP therapy.
Climate Control
Ah winter, it may stop you from breaking in that new pair of thongs or interfere with your sunbathing plans but don't let winter get in the way of your CPAP therapy.
A common issue we see over the colder months is water in CPAP tubing (also known as 'rainout'). There are several steps you can take to prevent this from occurring which include ensuring your hose is not hanging along the ground as well as placing your machine at or around the same height as your bed.
Another way of combatting this is by turning your tube temperature up, as well as turning your humidifier settings down. This can all be done through 'my options' on your CPAP machine. Please note however that machine settings are sensitive, so any changes made should be minimal. If you are unsure, see this blog post. If you are still having trouble, please contact our office on 1800 799 950.
ResMed Promotion
ResMed are currently running their 'Snooze n Choose' promotion. The promotion gives you the freedom to choose your reward when purchasing participating ResMed masks and machines. For example, when purchasing:
Any ResMed mask from the AirFit range you will receive a $30 eftpos giftcard.
The ResMed AirMini, you may choose from either a $100 eftpos giftcard or a converter for the AirMini.
The ResMed AirSense 10 AutoSet machine, you may choose from either a free mask or a $100 eftpos giftcard.
This promotion is currently running through til July of 2018. Purchases can be made in store, online and over the phone.